The Oconee Concrete Company has been incorporated since 1974. We currently have operations in Phenix City, Alabama, Opelika, Alabama, Milledgeville, Georgia, Greensboro, Georgia and Byron, Georgia. There is no job too large or too small for us. Whether you need one yard of concrete for a repair or small project, or 20,000 yards for a large undertaking, we'll be on the job with the same level of dedication and professional service.
"To Serve Our Community…"
Recognizing that being a member of the community brings added responsibility and dedication. We must do well in the community in which we reside.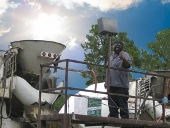 Certifications
DOT Mixer Management
DOT Certified Truck Drivers
Fully Insured
We value your time and truly understand the importance of meeting a construction schedule and your personal schedule. With our experience, latest technology, and our fleet of over 30 trucks – combined with our dedication to on-time delivery- we maintain flexible work hours and your schedule is our schedule!